After finishing a photoshoot with a twilight feel, graffiti and frozen water features¹ near-ish to Rocky Point², we went for a leisurely breakfast at Fairways Grill and Patio (located at the Westwood Plateau Coquitlam Golf Course).
We were the first ones there on a Sunday morning. The staff let us sneak in for a cup of coffee while they did their opening prep.

Then we ordered-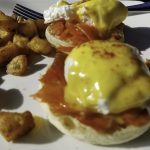 ⇐ Nals: traditional Eggs Benny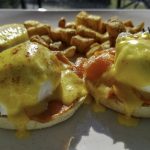 Kells: Salmon Benny ⇒
Food was delicious. Potatoes were beautifully seasoned as were the eggs and hollandaise sauce. The portions aren't huge. But the food sure do taste good.
Kells has also come here in the evening, and often orders Seafood Pasta. She recommends trying out their dinner menu, too.
Transport: driving is easiest mode to Westwood Plateau, though a bus might bring you sort of close by.
Ambience: Large, airy space with floor to ceiling windows. Hardwood floors, lots of space in between tables. Outdoor patio as well (with heaters and blankets for chilly days). Casual feel.
Parking: lots.
C o n c l u s i o n
Yes a must-try!
Footnotes
¹We've intrigued you with our photos. Now look at our other fab pix on IG!
²There was an active movie set up there. We were hoping to get in to use their area but they got in ahead of us. Those sneaks. Next time, N&Kers, next time!
Do you have any thoughts on Fairways?

Have you tee'd off here?