As you delightful N&Kers know, I had a coworker with lashes that went on for days.  Her secret was

EyEnvy

.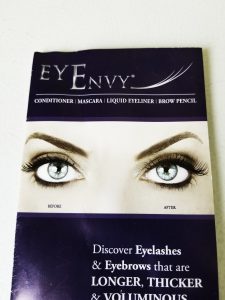 Eyenvy is an eyelash & brow conditioner.
I searched high and low last year and could only find the mascara.  I thought it was peanuts but it actually made lashes a bit fuller.  My review is here.
Kells found the actual conditioner.  She reviews it here.
So in July, I finally got a bottle of conditioner.  They recommend applying once daily x3 months then go to every other day.  I noticed a difference about 2 months into the routine.  Or rather, others noticed:
a friend of mine said "Your lashes are so full that they're casting a shadow on your face!"

Mr Nals said "They look bigger."(Man of a few words, that one.)
I'm now down to the every-other-day application.  But, it was easy enough to remember to apply & let dry.  My skin & eyes are super sensitive but I didn't find any adverse reactions.
So N&Kers, if you want to try it: do it!
A couple of N&Kers have tried it, with uber positive results.