Lately, it's been raining a lot here in this temperate rainforest climate. It's a gloomy and cold and damp. Kells and I decided to warm up by popping into a hot shop. So in we go to the casual The Ramen Butcher (RB) for lunch. RB is in the Menya Kouji Group, and pseudo-secretly tucked away into a half-street in Chinatown.
There was a bit of a line up as the place is smallish and it was grub time.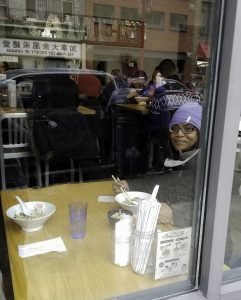 But we got in in under 5 minutes. Window seat of course. (Kells insisted on this or we'd walk! JK.)
Ambience:
It's all woodwork inside, with a collection of seating areas from typical slide-in booths to tall bar-type long tabletops. In the middle of the room, these tabletops have little cubbies right underneath. Handy little place for your wet umbrella* or your purse or your chinchilla**. Unfortunately this creates a problem for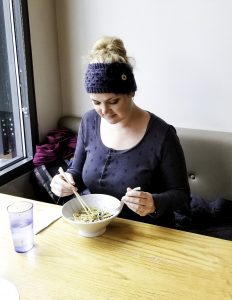 us long-legged folks (challenging to comfortably place the thighs under this contraption when using the handy foot bar-rests). Half pints would probably be ok.
Service:
Servers are peppy little ladies and gents that zip around. They are efficient and friendly. Food came in after a short wait, and was hot on arrival.
R a m e n   S c i e n c e:
Have you guys ordered ramen before? I'm not talking about the 3-minute pot-noodle stuff. There is a whole science and process to ramen noodles and soup.
The main difference from other noodlers is that the ramens are alkaline. So they can be dropped into and withstand searing hot temps of broth, without getting limp. (& who the heck wants a limp noodle?) They come in thick versions (tsukemen) or thin (ramen).
The broth is also a bit complicated, made with chicken +/- pork. There's the thicker, opaque, white broth (paitan). Then there's the delicate clear broth (chintan).
Lastly, there's the filling/topping (chicken, pork, egg, seaweed, veg, etc.).
At Ramen Butcher, these are all pre-assembled into menu items but the trio of components is the basic idea. We ordered: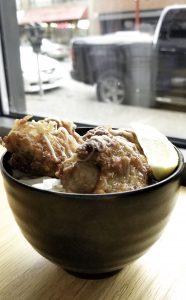 – Karaage to start. It was crispy boneless goodness that came with pan-fried cabbage and rice.
– Our lunch main was Chicken Ramen. This dish had thin ramen noodles with the clear chintan broth. It also came with a half-egg, chicken pieces and chicken meatballs. I was a little skeptical that a clear broth would have delicious flavour and mouthfeel. I think of wimpy consommé when I hear clear broth. (But this made me think of pho which is clear and totes flavourful… but is also made with umami-filled beef.)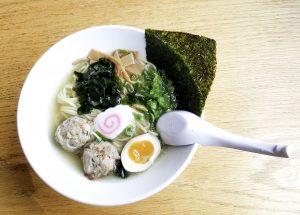 However, Ramen Butcher did not disappoint. They clearly (ha ha) take their ramen noodling and brothing seriously.   The result is a delicious bowl of ramen.
Critiques:
-The long-tables (as described above).
-Parking is an issue for Chinatown. So take transit or walk. If you have to drive, try to carpool or… come early to find a spot.
-RB is smallish so if you have a party>6, prepare to wait a bit for a table at peak grub time.
Conclusion:
Kells has been here before. But, this was my first time. And we will defo be back! We're intrigued by their gyoza, Red Spicy Ramen, Black Garlic and Classic Tsukemen.  You guys have got to try this place!
Fun fact: Only recently did The Ramen Butcher incorporate English into their Japanese menus.
Penny for your thoughts?  

Let us know what you think by clicking on Leave a Comment, exclusively available in this post's tag cloud.
      End bits        
*There are 2 kinds of Vancouverites – those that carry an umbrella and those that don't bother. Kells and I are the latter. (We choose rain jackets instead.)
**Fair warning: You can't bring your pet into a food establishment in Vancouver. Unless it's a guide dog…or guide chinchilla.