So here in the great YVR a few hot spots got together for the Hot Chocolate Festival.We think end of Jan and into Feb is a great time to warm us up.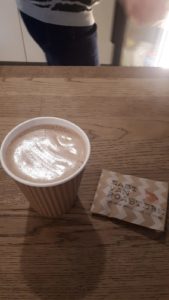 Today marks the final day of the Hot Chocolate Festival (boo). But we did get out there and try a few (even though our intentions were to try as many as we could).
We loved some and didn't love others.
We have a tie for our favourite! They were both so different but both so good. So in first and 1st place is a) the Vegan hot chocolate from Cadeaux Bakery and b) the Bees knees squeeze from Chez Christophe
Let's talk about a) first. We both love some coconut so to have that hint of coconut with the rich chocolate was a win in our books. Then b) this was delightful sweet treat with honey and lemon notes.
Second place has to go to strawberry fields forever, a dark chocolate and strawberry delight also from Chez Christophe.
Third place is the hot chocolate in a cone from Mink. The cone was a yummy addition. Just wish the drink was warmer (however we get having a super hot drink in a cone doesn't bode well).
The middle 2 are from Baggio. They weren't cheap and was underwhelming. They were barely warm and did not have much flavour despite the amazing descriptions. We tried the Almond Joy and Tiramisu for 2.
And sorry to sayEast Van Roasters, you make a mean salted cookie, but your fragrant hot chocolate was just not our thing. We are sure others loved it. But we didn't get the flavour fusion of the Umami Experience.
We have to say, the Hot Chocolate fest was a great way to get us out and about. And we love that they support women and children. Yummy in a cup plus a good cause. Now that we can get behind!