Sugar sugar, oh honey honey, you are my candygirl…
Kells and I fancied something a little different on Saturday morning.  So we hopPed along to Sugaring Change.
Kells had tried this out a few weeks prior

1.  And She Suggested i Give it a whirl.
So What exactly is Sugaring? Chantelle has a wonderful description on her company's site. But here at N&K, we also like to research neutral info. And, we found

this

.2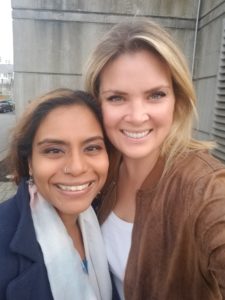 Let's nutshell  
All-natural product3

No strips – less environmental waste

Your body heat warms up the paste – no heated product means no burning skin

Hair can be short, some websites state 1/8″
                     Procedure     
You are provided with personal wipes to sanitize (for intimate areas). All natural kaolin clay mixture is then dusted to ensure skin is dry.
Sugar is applied in direction that is opposite of the hair growth. While keeping skin taut, sugar is pulled off in the direction of hair growth. Thus, irritation is significantly less5. It only takes off a layer of dead skin5.
Larger areas can be sugared5. You use the same ball of sugar for a few pulls. Before application, sugar is thick, honey-coloured & seemingly translucent. After a few pulls, the sugar becomes whiter with different texture.
               How It Felt   
I've been waxing for years. It's painful and sting-y, though you do get used to it. Waxing any part esp underarms and the under-carriage is painful. First waxes started off quite painful (say, 6 out of 10)6 and still are (5/10).
On legs and arms, Sugaring just feels like a bit of tugging and pulling. Ladyscaping with Sugar is pain level of 3-4.
After Sugaring, the skin wasn't irritated or tender. And I am a sensitive little vittle. But not after Sugaring Change!
              Service Time   
Shaving takes ages and you risk nicking or razor-burning yourself. Waxing yourself is tricky (especially on arms!) as you hone your technique5.
Sugaring takes the same time as a salon wax.
           How Long Does It Last?   
By the time we post, it will be about 1 week. We are both still smooth! Sugaring lasts the same as wax, so 2-4 weeks. But after a few sessions of Sugaring, follicles reduce their hair production. Apparently, Sugaring pulls out live follicles.
↓ follicles ≈↓ hair growth. Makes sense, right?
               Aftercare  
Make sure you read about Sugaring Aftercare on Chantelle's site. It's different from shaving and waxing.  After shaving and waxing, I wash with warm soapy water then apply aloe moisturizer.
At Sugaring Change, esthetician Danica gently applied a warm towel to remove residue. Then she applied a witch hazel & tea tree spritz and finished with a moisturizer.  Chantelle applied a clay mask to Kells, after ladyscaping.
Danica suggested that if there was stickiness or residue, to apply a warm towel. But avoid rubbing, showering or watering the skin for 12-24 hours. And when you resume showers, exfoliate q2d to discourage ingrowns.
               

              the atmosphere   
Intimate, medi-spa feel with a small waiting room. There are lotions and potions to ohh-and-ahh over (including EyEnvy, which we reviewed previously).  Treatment rooms are large, well-lit.
        The Estheticians   
Chantelle & Danica are wonderfully gentle, understanding and professional. I've only ever gone to one other person for ladyscaping. (& I went to her for years for other waxing before I even considered ladyscaping.)
      TRAUMA-INFORMED PRACTICE 

 
What exactly is this? I haven't heard about TIP outside of healthcare! Essentially it is meeting the person where they're at.  Sugaring Change is very Person-Centred.
I had not been to Sugaring Change or met Danica (or Chantelle) before. This was a huge step in trust for me. I discussed my hesitations with Danica. She validated my feelings, and we discussed ways to cope (stress ball, communication, etc). Danica was so lovely that I don't know why I was worried.
Both Chantelle and Danica explained very precisely what she was doing before doing it.
Sugaring Change is also a place of Body Positivity. They Sugar all shapes, sizes, genders, trans-folks…
     Cool faCts   
Sugaring products are either made on-site or purchased from a local supplier.  So Sugaring Change also supports local businesses!
And when you get serviced at Sugaring Change, you are contributing to HOPE International Development Agency.  This agency empowers women and girls in Cambodia.
And empowering women is what N&K are about!
          

T h e   v e r d i c t        
Probably not a surprise but we love this place!
If you remove hair, or are considering it, you MUST try Sugaring Change.  
And if you mention this blog post

(or just n&k)

, you'll get $5 off of your first service!
How's that for some sweet delight?
Footnotes
1 Disclosure: Chantelle gave us a discount on services specifically to review Sugaring Change. Neither she nor Sugaring Change sponsored this post. This review accurately reflects our thoughts.
2 Wikipedia seriously? Yeah we know. There were lots of sites that had the same info as Sugaring Change, but they also focussed on sugaring-at-home methods. We just wanted info on sugaring. So, if you don't like our Wiki citing, check out their References & External Links sections.
3 The reason that this is fab is because you can eat all the readily-found ingredients, and pronounce them! No additives, human-modified chemicals, unnecessary junk. But just because it's natural, doesn't mean you should jump into making it at home. You can also cook up poisons at home (by accident or on purpose). Doesn't mean it's safe. So… we recommend you go to a salon that Sugars first.
4 My theory that most things in life can be tied to a Seinfeld episode is true. (Partly cuz I say it, and partly cuz it's the truth!) And in keeping with the Wiki love, here's the link to that "spectacular" episode.
5 Waxing & Shaving is usually done opposite of hair growth.  Waxing also removes a layer of live cells. W&S are done in small areas at one time.
6 Well what exactly does 6 out of 10 mean? Excellent question! Pain is subjective, and certainly depends on culture, gender, socialization, reporting ability & a whole bunch of other stuff. Many health professionals use the Faces Pain Scale . So, for me 6 out of 10, indicates moderate pain.
7 If you water your skin too early after Sugaring, you run the risk of whiteheads.