Years ago, Osamu Sushi's owners stopped in to the very shop that our baby Kells was working in.
Their suggestion: that her team have their Christmas dinner in the restaurant. They did… and it was fabulous!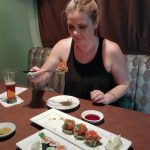 Fast forward 15 years… after a hardcore workout¹ with Koach, Kells suggested that the 3 of us have a celebratory dinner at the very same Osamu.
Starters
→ Agedashi tofu ←
crispy hot cubes of tofu sitting in a savoury pond of dipping sauce.
→ Spicy Prawns ←
oh my lord. You'd need to sit down for this. You'll also need to order your own. Don't bother sharing. Sure it's large enough but it's too delicious. Big juicy prawns, noodles, crispy haricots verts, julienne of red bell pepper are lightly tempura-battered and fried. Like a sultry singer draping her curves over a piano, the"spicy" sauce² is drizzled on top. We had to order a second serving!
Dinner
→ Volcano Roll ←
– larger specialty roll –
exploding with delightful spicy tuna and fabulous flavour-texture combos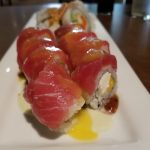 ← Paradise Roll ←
– larger specialty roll – jam packed with cream cheese, mango and other goodness.
→ Dynamite roll ←
crispy and tasty.
→ Negitoro and salmon rolls ←
Negitoro is Nals's go-to fave. These makis were mmmm so good!
Conclusion
Yes you must try this place!



⇓N&K Tips⇓
We were hungry & had just worked out… but that was defo too much food. We probs should not have ordered the last 2 rolls. Especially for Kells and Koach, who also ordered a beer.
Osamu is open for lunch and dinner. So pop on over to nearby Coquitlam Centre for shopping before or after your meal. You could go for a pedi at Aveda Spa, then have a late lunch with drinks at Osamu.
You could also work up an appetite at nearby Coquitlam Crunch .
Footnotes:
¹ Stay tuned for our Muscle Development After Fabulous 40 series. (For Kells it's Almost Fab Forties.)
² Very flavourful and not chili hot