Kells & I were headed off to Langley to do a photoshoot. We were looking for a funky historic site nearby2, but didn't find it.
So we meandered back to the main drag for some action1
---
we were sidetracked by a cute little candy store

 
---
and then we found this little gem called BlackSmith Bakery.
             

Our order              
   Eton mess   Mason jar filled with delightful layers of strawberry jam, meringue, whipped cream.
Yes, it was delicious but layers all had the same notes.
We were wanting something else in there: maybe a bit of citrus flavour or bites of another tart berry. Next time, we'll likely try something else.
   

truly chocolate cake

      smooth, rich. Mmm a perfect 10

Blacksmith Bakery specializes in bennies and pizzas.
Seeing as how it was brunch time, we got ourselves:
   Funghi benny   
Earthy mixed mushrooms & microgreens topped the E.muffs.
This was definitely our fave.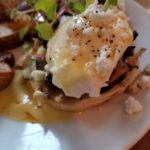 Smoked Salmon benny    
Papery thin slices of heavenly fish, garnished with fresh dill.
The hollandaise was delightfully tangy. And both dishes were served with crisped rosemary potato bites.
This place was hoppin' busy. Apparently this was also where the Ride to Conquer Cancer riders stopped in for a bite. They were riding on a cold gloomy rainy morning. Yet they all piled in like excited chatty munchkins, laughing, drinking their hot drinks and eating food with gusto.
    So what's the verdict?  Thumbs up or down?   
Fabulous place for food

– a meal, just a coffee, nibble a pastry or get a pizza to go.
Parking might be a bit iffy if there's an event.
But it's a great place to people-watch. 
defo thumbs up!
Footnotes:
1 Truth be told we gals got a bit peckish.
2 Nope, it was not the Fort Langley National Historic site that we were looking for.