N&K's Roundup of Runs in Vancouver, BC
Believe it or not, at 12 years old, I signed up for Track & Field.  And I chickened out… then

 at 40, did I really start running.  
Kells was a track-lete in her teens and took a break when during schooling and subsequent back issues.  And she re-started around the time I did.
---
So this year, Kells & I did 3 runs.
---
Not all runs are created alike. Which is why I wanted to do a review so that newbie runners have the info to choose wisely.  There's not only a financial cost, but also the time and energy.
Prep & training
We were both mentally prepared and motivated.  
Kells just needed to re-condition.  Her final time was about 30 minutes for 5km outside.  
I needed to start from the bottom middle up. I did some research and decided to do a modified Couch to 5km.  My end time was about 40 minutes for 5km on the treadmill. Running outside was way harder.  I couldn't run a straight 5km, without walking breaks.
---
Always check in with a licensed healthcare professional such as a physician, nurse-practitioner or personal trainer prior to starting a new health regime.  This helps you to be physically safe and manage your expectations³.
---
St. Patty's
Run (March)
had such a fabulous energy.  It is the first run of the year in Vancouver. Lots of music, people, hoopla.  It was fabulous and I was pumped but nervous AF!  
Location: Stanley Park 
Raceway: We ran along the seawall so pathway was flat, with minimal incline and wide enough to pass the slower-paced folks.
Length: 5 km walk or run.  Different start times for different levels.
N's time 38 mins ⇔ K's time 28 mins
Daffodil Dash (April)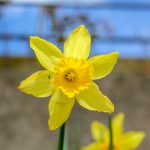 Both Kells and I have had loved ones suffer from with cancer.  So this is a topic that is near-and-dear to us.
Location: various across B.C. We chose Tri-cities, which was at Rocky Point 
Raceway: windy, partial paved sidewalk/trail and a lot of forest-y trails with twigs and such things to get underfoot.
Other info: wayyy smaller gathering that started 45 minutes late, not cordoned off so other runners and birders¹ blocked the precious real estate.  
Length: 5 km (which was more like 5.5 km) or 1 km walk or Dash for kidlets
N's time ≈ 45 mins ⇔ K's time ≈ 30 mins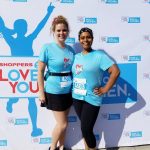 Shoppers Run for women (May)
Womens health is also an important topic for us. So this was a no-brainer.  
Location: Wesbrook Village in UBC, N's alma mater
Raceway: trails in Pacific Spirit Park.  Partial paved and mostly groomed trails with some twiggy undertows.  Minimal incline, paths are narrow at some points.
Length: 5 km walk or run (or 10 km run or 1 km walk), different trails and staggered start times
N's time: <38 mins ⇔K's time: <28 mins
Conclusion
After the first run, this gal was hooked.  The freaking energy and positivity was addicting and motivating AF.  We will defo run this next year.  
If I had started with Daff Dash, I wouldn't have gotten hooked. No siree bob. Energy was way different, which was partially due to the drizzle and smaller crowd. Didn't seem as organized.  Next year both K&I agreed to do the Vancouver one.  (2018 was the last year for Tri-Cities location anyways.)
We ended with a BANG! Shoppers was defo a larger crowd with music and lots of energy.  Our one critique is that the Walkers should have started last, after all of the runners.  Some of the Walkers sauntered in their possies, shooting the shit.  They were like a human bunting, 3 and 4 across the the path. They bristled at how the runners rudely pushed past them2.  Imagine runners wanting to run in a race! Preposterous!
Our last run was supposed to be the Vancouver Pride Run in July  But I wanted to support my family member in her wife's Celebration of Life, which was the same weekend.  So K&I didn't go. 
I was super pleased to see all shapes and sizes, and skill levels.  So if you're remotely interested, go for it! It is sooo worth it.
Footers:
1  Birders= a gaggle of birdwatchers that was clogging up the trail like an oxidized comedo.
2 The bunts were told to keep 1 or 2 across, and keep path open for runners. Hmmm these Walkers didn't have a bunt to stand on.
3 I see him a few times a year for the chronic health condition so I just tacked this question on to my visit.  I had also checked in with Koach.