I have never done this before, so I am a little  nervous. First of all, I'm not one to ask people for money. So please don't feel you need to donate to me (but I won't say no if you want to donate). However, I am asking you all to join in the conversation around women's health AND to support me while I kick the stink out of cancer this month.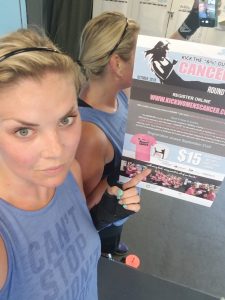 Secondly, the only option for t-shirts were pink. Ugh. I'm not a fan of the pink, or pink, or pink. But I will bring it to the gym every day and get it signed. Oh I should mention, that for every work out we do this month, we get a signature on the pink shirt. Maybe I should set a goal of signatures? Any suggestions? (please leave a comment).
October 1st, here we go. Starting the month off at the

gym

in a pink shirt, getting signatures and starting the conversation around Women's Health.
According to the Canadian Cancer Society lung, breast, colorectal and prostate cancer are the most common types of cancer (not including skin cancer). Also, cancer is the #1 cause of death in Canada. We also know that the earlier the detection the better the outcome. We also know that there is no known cure, and we need to find it! No one should have to lose their life to cancer. No one.
I'm assuming here, but I'm pretty sure that we have all been impacted by Cancer. I have lost 2 important people in my life to Cancer and I have also have a survivor in my life. This month I want to honor my friend Amber, who even while she fought her hardest and even in her sickest moments, chose to be happy and live for every moment. I also want to honor my bests Dad, Rick. He was the cool dad that made those ridiculous jokes and always made us laugh. I will never forget these two.
I also want to use this month to fight for never receiving that call again. The call where your soul sister calls and tells you she has cancer. That call literally took my breath away. It made time stop and has burnt a hole in my memory. I vowed to be with her every step of the way. I was there after her surgery and helped take care of her kids. I am so thankful she is still with me, as I can't picture my life without her. and I am so happy to say her kids still have her. She is also the one that lost her dad last year. Cancer sucks.
Let me share this one last thing. A couple of months before Amber passed away, I went to see her in the hospital. She was so thin and on oxygen. It was hard to see her so frail. But she smiled the whole time. She laughed and joked and wanted to know the latest news with everyone we knew in our lives. I asked her what can I do to help her. She told me she was happy. She said that after she got the news she had a choice, to fear the future and be sad about her extremely aggressive cancer or she would wake up every morning and say "today I choose to be happy". That really hit me. My gosh, it's hard to be wake up happy without knowing you are dying from cancer. And let me tell you, Ams lived her word. She was happy. She was happy to see her friends, happy to have another day with her family. She was happy. I try hard to live by this. And when I hear our song, Sugar by Maroon 5, I get a reminder to be happy. It's a choice.
So here I am, choosing to do my part for fighting for cancer and choosing to be happy. Please join me. Help me. Encourage me. Follow my fundraising and if you can please donate: https://secure.e2rm.com/registrant/FundraisingPage.aspx?registrationID=4292199&langPref=en-CA I hope to post some pictures there soon!