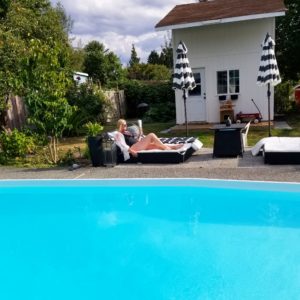 Lately I have been here there and everywhere (unfortunately without my side kick, Nals). We both love love love to travel and quite honestly, I'm pretty darn sick of staying in hotels.
So a few years ago I started using AirBnB/VRBO.
Here's what I love:
You can find a home away from home. It's not a stuffy hotel room, with no kitchen. And yes I realize that you can find hotels with kitchenettes, but they just aren't the same.
The experience of being one of the locals. You are in a home, a neighbourhood, part of the scene, instead of just visiting it.
So how does one successfully navigate finding the perfect location? Great question! Here are some of my tips!
Know your price range.

Use the filters tool to screen out all the places that you can't afford. No point on wasting your time on the luxury properties that are out of reach.
If you are like me, I want my own place and I don't want to share a space with others. Not that I don't like people, I just like having quiet moments to myself. I also like walking around in my unders and I don't like people watching me do that. So I change the filter to only show me spaces that are my own and private.
Because there are sooooo many places on AirBnB it's a

good idea to add the filters

that you need. I prefer to have a kitchen and wifi,I automatically start with these filters. However, if there are certain things I want, for example, my hubs and I will be going away in a few weeks for our anniversary, and it's hot, so I wanted a pool! (and boom, we are spending time at private home with a pool, kitchen and wifi!).

Don't get carried away with filters

. Pick only a few that are important to you. Yes, there are lots of options to choose from, but having more than 3 or 4 filters will limit you. For example, I just searched for properties in Kelowna, BC. I put in random dates of Feb 12th to 16th 2019. The search came back with 300+ homes on 18 pages. When I added the filter "entire place", and dropped my price range t0 the max of $250/night. I still had over 300 homes on 17 pages. BUT dropping the price to a max of $200/night, it brings it just under 300 homes. That's still way to many to search through. Adding kitchen; 255 homes, and wifi; 244. Now if I add pool; 30! OR suitable for pets; 22! (we like to travel with our pups, but this limits us big time!)

Location, location, location!

Shuffling through 300+ homes is impossible! So don't even try! (Please don't!) Use the map option and zoom into the locations that you want. Close to the city, out by the lake, or up in the mountain. Use this tool, it is probably the most helpful and will bring down your search to the area best suited for you (and any travelers you are bringing with you.

If you see a place you like, ♥ it, and add it to a list.

You can have lots of lists and get to name them yourself. Don't over add to your list. You will use this list to narrow down your search. I have 3 things I use to add to my list.
Pictures, if I like what I see
Cleanliness rating (I look for 5*)
I read 2 or 3 reviews and if they are good, I heart it.
7. Finally, once you have a few keepers in your list, start comparing them. Read the descriptions well. I often find things hidden, like if there is no TV, or if there is a cat that lives on the property. Things that you may or may not want. You may also discover that the place is a carriage home just off the main area of the owners house, and that they will be sharing space with you.  This is also when I read through the reviews. Try to read some that don't give the property all 5*. Other guests are good at pointing out things that you may have missed. If there is something that you don't like about the property, delete it off your list. I try to narrow it down to 2 properties. Then I will message the hosts about any questions I have, like what's the parking  like? or are there any condiments in the fridge?
So far, all the hosts that I have had, have been amazing. They answer all my questions, communicate well and have been super helpful with anything that I have needed. I'm sure most people have used AirBnB at this point. But if you haven't, it's important to remember that the hosts will also rate you. Their comments are seen by other property owners. Things happen, sometimes glasses break and accidents happen. It's good to let the host know these things. Don't forget, to follow the instructions for when you leave. Every host has a different set of rules. These help the cleaning staff, as well as others following you to enjoy the property after you leave. My rule, is to treat the property as it is my own and if I were the host.
Finally, if you are staying at a property for a week or more, try asking the host for a deal. They are often willing to discount if you need to stay a while!
Have you AirBnB'd? What are your tips to finding the perfect place? Please share your tips with us, we would love to hear them!