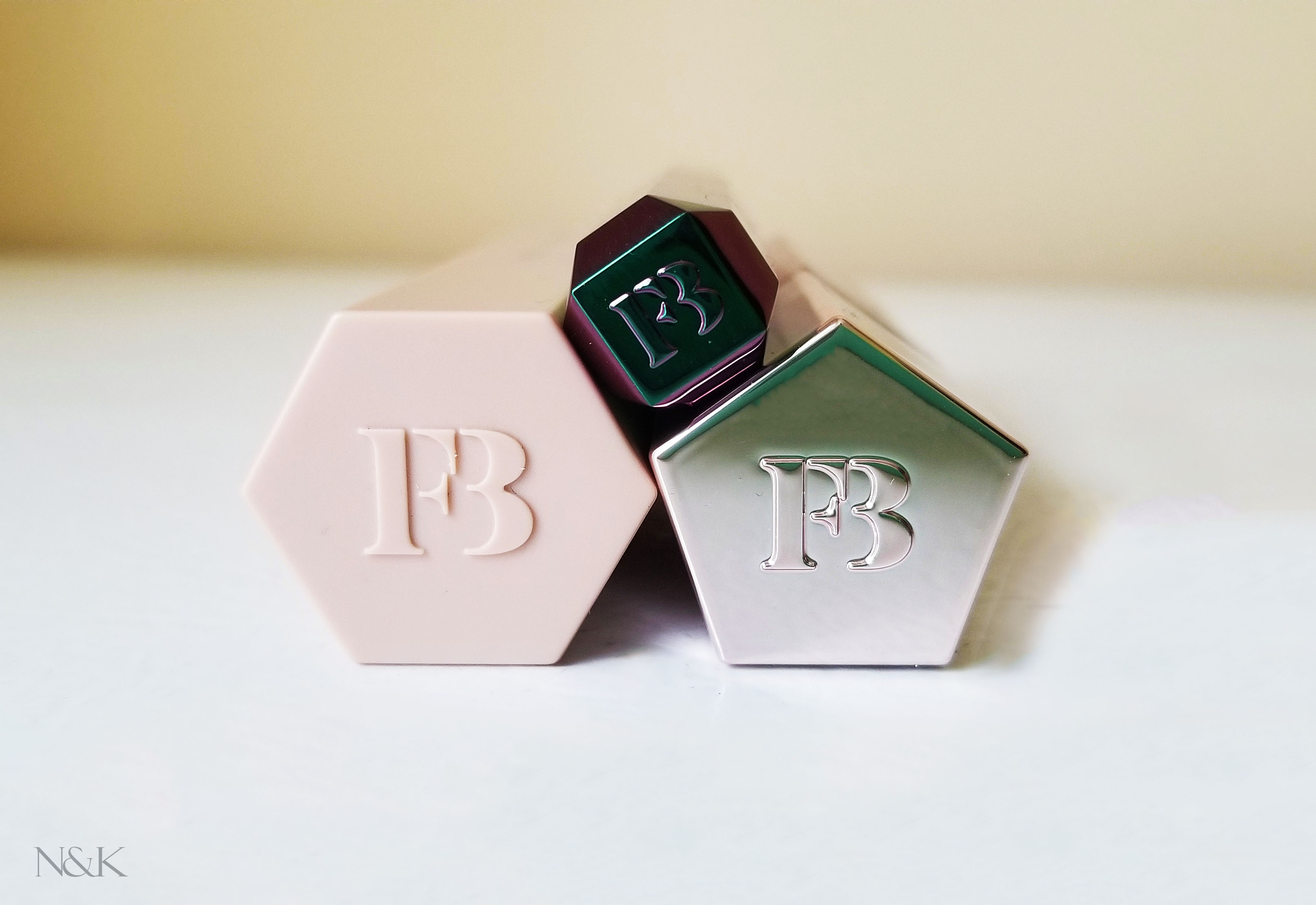 We skipped into Sephora in Vegas, hand in hand like 2 cute little tots in pigtails. Just days prior, I had popped in to the one in Burnaby (that's in Beautiful British Columbia for you unworldly readers) to pick up my birthday gift* and some many other treats for my fiiine & wiser self. But a girl can always see what's new with makeup.
And then (cue the angels singing)… our Miss Kells pointed out the mesmerizing Fenty Beauty line. I've never seen such an array that celebrates us cocoa-coffee-toffee skin tones.
Kells and I tried on and subsequently picked up the Gloss Bomb.  And as it was her birthday as well, she picked up a few other delights like the lipstick and highlighter, and a delicious Huda Beauty eyeshadow palette.  (The highlighter was so fab AF that it requires a separate post.  So, BOLO!)  The Starlit Hyper Glitz lipstick in Supermoon did the job – nice colour, texture but nothing really differentiated it from another higher end lippie.
And oh my word Rihanna you have outdone yo-self, son! Your butt-stopping product, the Gloss Bomb Lip Luminizer is Universally fantastic. This gloss comes in a funky geometrically cut bottle. It has the scent of sweet something. The texture is not too sticky but has excellent staying power. And the colour is dreamy creamy translucent luminous. What on earth does that mean?* Seriously perfect nude gloss for a darkie like me and for a porcelain-complected pixie like our Kells over here.
So get off your poorly glossed duffs and pick up a gd bottle of this potion, ladies & gents! Oh and hey Rihanna, our one critique is that there aren't more colours so umm… get-to-steppin.
* It means exactly what I said.
** For my birthday gift I chose the Tarte blush (paaarty pink) and mini creamy matte lippy (Birthday Suit pink for those 60s-inspired days). Kells picked up Caudalie skin care goop in Vegas. And hey if you're wondering how the in-store birthday gift offerings compare in USA vs. Canada… They are the same.  Sigh anti-climactic but true.)
Watch out for our All That Glitzes is Glitter in an upcoming Christmas-themed post.  We'll be trying out Fenty's Cosmic Glitter Lipgloss & Bite Beauty's Prismatic Pearl Creme Lip Gloss… and we may throw in some other blitzy surprises (if you're lucky).