Well this week can just blast off!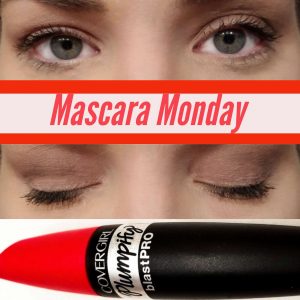 Let me break it down for all you N&Kers. But first, I will go over the rules I follow:
We bought all mascara ourselves (which means nobody is paying us).

We wear each mascara for 1 week.

All mascara's purchased were black, and the darkest black they had available.

Every Mascara used was put on the exact same way, with only 2 coats and all eye makeup for the pictures was exactly the same.

That's it…there are no more rules.

Wait…maybe one more…the opinion is ours…take it or leave it. Believe it or not. These are just our 2 cents.
This week I applied Covergirl's Plumpify blastPRO. Hmmm….where do I start? Ok, let's start off with what I didn't like because unfortunately there's more I didn't like.
First, the brush. Oi, that brush. I think Covergirl was trying to reinvent the brush, but I'm sorry, did no one try it out before rolling it out? This brush is not soft, oh no, it's hard and scratches you. If you are like me, you like to get as close to the root of the lash as possible. However, try getting this brush in close! Let me tell yah, you will feel it if you touch your lid. It will scratch you. It should change it's name to Meangirl.
Once you get past the scratch of the brush it's an ok mascara. Now, if you like your lashes to have a super natural look, that doesn't really look like you are wearing anything, this is the perfect mascara. It certainly does not Plumpify by any means. But it will separate each lash with a thin coat of mascara giving you a darker natural looking lash. To me, that doesn't equal plumpify. Plumpify says bold, big, fluffy, juicy, dark lashes. Not thin and natural.
That being said, this is a perfect mascara (if you don't scratch  your lids off first) for that day look, going to the grocery store and the gym…but…be warned…it sweats off easy. After my gym routine I did need to wipe off my lids and under eyes. So maybe if you are trying to impress that hottie at the gym, don't wear this! Unless you don't sweat like cheese in the sun!
So what did I like? Glad you asked! I did like that it gave a natural look to the lashes. Yes I do like a good bold, dark lash. But not for everything. I mean, do I really need bold lashes for breakfast dates, or dimsum? Ok, maybe I do…but I could settle for a nice natural lash.
Also, I just went and read the reviews on the Covergirl webpage. And people seem to agree with me on the brush. Leelu commented " If the brush were less harsh and offered softer bristles this would be a perfect product!" Can't say I would go as far as perfect product…but "less harsh" is a good way to put it.
But like I have said in the past, if you like this one, hey you go girl*.
Side note, when we use a * after girl or women or any gender descriptive word, we are saying we are inclusive of all who identify.