Well folks it's Monday again.
Mondays can feel like a real drag. That's why we bring Mascara Mondays – to jolt some excitement back into your week.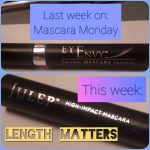 (Our other reviews are under the Mascara Monday tag.)
Today, I will be reviewing
I am a Julep Maven.* As such, every month, I get a box of polish, skincare or makeup goodies from Julep. So when Length Matters arrived at my door step, I said "Come on in, honey."
---
To remind y'all about The Rules of Engagement:
We paid for everything ourselves and were not comp'd.

2 coats were used for the photos with same make up.

This is just our opinion. Take it or leave it.
---
The brush: plastic nubs on a plastic base. Julep site describes it more eloquently.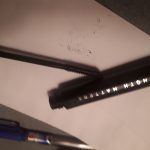 The formula: on the thin side.
Positives:
Doesn't clump easily.

Good price point for Julep Mavens.

Thin formula = easy application.
Considerations:
Doesn't give a luxury coat to the lashes. Julep site says this is buildable colour. So keep applying til you get what you want. (sigh… if only the rest of life was like that…)

Not readily available in drug stores but easier to find than EyEnvy.
Conclusion:
For lengthening, sure it looks like it does the job.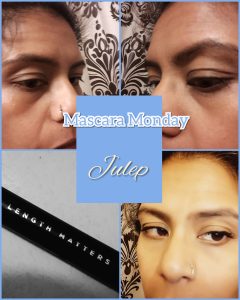 But we all know it's also about thickness. So, here it falls short. Can I fault it for something that it doesn't claim to do? Not really.
So my 2 cents: try it if you are a novice or want natural looking lashes. I wouldn't go out of my way to buy it. But I'd happily use it if it came in my Maven subscription!
Footnotes:
*if you'd like to try out Julep Maven subscription box, we may be able to get you a few bucks off. Just leave a comment below. And we'll email you with the deets. (When you leave a comment, the web master will ask for your email. Please don't post your email in the comments for gen pop to view.)
Have we enticed you to try this mascara?

What are your thoughts?