Nals & friend Missy R were invited to Harrison for a work thing at Harrison Hot Springs Resort Hotel, around Valentines.

And we decided to do a hotel review.
In the midst of all the lovers trying to enjoy their mineral soaks, our party of at least 100 shows up.
(We weren't a rowdy crowd but we misfits certainly didn't add to the romantic feel.)
So let's get to the hotel review!
T
The hotel is situated on the lake & easy to find in the small town.
The rooms
There are quite a few options at the Resort, such as cabin & main hotel room rentals. But I've only ever stayed in the (newer) tower.
Bathrooms have a large open spa feeling. Beds are very comfortable with fluffy pillows.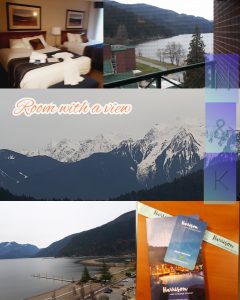 Lots of in-room amenities like Keurig machine plus coffee/tea pods, hair dryer, toiletries, clothes iron, hangers, safe, fridge, luggage rack, plenty of countertop space, a desk & balcony. There is a small table and chairs for morning coffee or to receive guests.
The grub
Miss Margaret's Café

with early morning pastries & coffee,

Lakeside Café

for B&L and

The Copper Room

for dinner and dancing.
Food is good. As with buffets, there are the delicious options (especially omelette station¹)… and then the mediocre. A la carte meals are way better, not surprisingly.
Hotel amenities
Small exercise room with a few cardio machines, free weights and a bench. Outdoor swimming pool. 3 hot spring pools with varying degrees of heat. Business room with computers and a printer. Several lounge areas (or loaf around in, as my mum is known to say).
Around-town
→ within walking distance ←
There are a few restaurants, cafes, diners. Don't orget to check out other hotels – for restaurant options.
Entertainment
DAY: explore nature through the trails or waterways. Harrison Lake has a water park (for a fee). Relax by the beach. Or drive around the area.
EVENING: There's dancing at the Copper Room with live music. In town, there are pubs and other musical venues.
Conclusion
Yes a must-go if you want some R&R in a natural setting. Or if you feel like crashing Valentines Day.
Footnote:
¹If you're there for the buffet, to increase efficiency: pop your toast on to the conveyer belt toaster, then order your omelette then go to buffet table for fruit, bacon, etc. Situate yourself at a window table. Ask for coffee/tea. Then go grab your hot toast and made-to-order omelette. Now you're set to enjoy your feast.