On our way back from Seattle in January, we decided to stop off in historic Fairhaven.
This quaint little area is actually part of Bellingham, Washington. (Kind of reminds us of areas of North Van, New West and Vancouver's West End with a bit of Steveston.)
Kells had had breakfast there previously. So she corralled us into the same joint named Skylark. I had been dying for some

clam chowda (as mentioned previously) and finally! I had a chance to get me a big ol bowl of it. It was delightfully creamy smooth with good flavour and bites of clam and potato. Then we shared the po-boy and thai fish sandwich. And whoo big portions!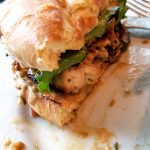 Po boy was great. Would've been excellent with more oysters.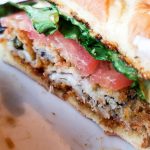 Thai tilapia sandwich was delish but a bit messy to eat.¹
Place is bigger than it looks – front entrance leads to another dining area.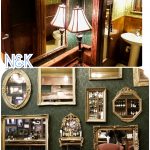 Ambience was quiet. Its eclectic style reminded us of a spot between a tea parlour and OSF. Service was good. They don't hover. Menu was vast with various breakfast, brunch & lunch dishes.
A f t e r b r u n c h We couldn't very well have gotten back in the car with these 2 full rockabellies. So we walked around to burn off some calories² and took pix. Then some shops beckoned to us. 3 French Hens in particular. It was a shop that carried mainly clothing with a few other doodads. I was flabberghasted to see a capelet³ there… and one that fit me!
C o n c l u s i o n
∴If you're in the mood for brunch and window shopping, Fairhaven is defo an option to consider.
What are your thoughts on Fairhaven, 3 French Hens or Skylark?

Feel free to comment below.
Footnotes
1. can be ordered without cilantro!
2. TBH, we wanted to walk around to window-shop.
3. Capelet photos coming soon.