Perhaps you are new to N&K or mayhaps you didn't realize… Both Nals and Kells have a bit of a sweet tooth.
Granted we are sweet already. But we need to top up our own reserves every once in a while. As such, we are partial to bakeries that make sweet treats for our bellies. Me mumsey has been a big fan of Sweet Obsession's tiramisu for years. So my tums was introduced to this lovely delight ages ago.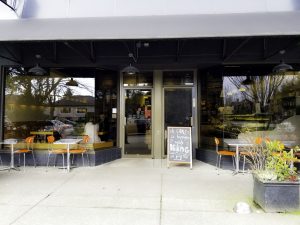 Our beloved Cadeau Bakery (read our review and Cadeaux's response) was closed on one of our monthly sugar-topping jaunts. We had to find a replacement toute de suite! Luckily, I remembered this beaut just in time. So off we went.
We had lunch (chicken & brie sammy for La Kells and chipotle corn chowda for Miss Nals). Yummy yums. And we finished off with two lovelies: Triple Choco Mousse and Peanut Butter mousse. Ohhh yeah!
Triple the chocolate (white, milk, dark) means triple the sweet creamery velvety happiness. Each layer holds its own but they go real well with each other too.
The PB mouse seamlessly slithers off the spoon and smoothly into your mouth. Thank you tastebuds for waiting so patiently. (We know that you know that it was worth it.)
We've tried lots of other things like White Choco Raspberry (a bit too light on the raspberry) and Sour Cherry Danish (more like a bread pudding, challenging to eat daintily but nice flavour).
For take-out, I've gotten lovely homemade caramels, granola and biscotti.
Beverages: plenty o' choices with various espresso, tea, lemonades and bottled slurps.
Parking: plenty available on the street.
Seating: limited, cramped, uncomfortable small wooden furniture (good for half pints but if you've got any semblance of a super-bass then uh be prepared to do the old eat-then-boot).
Ordering/Serving: is a bit odd. You can go up front for takeout. But if dining in, you're supposed to sit and wait to order. However this is not necessarily evident so folks order at the counter then sit. While others who are there first, following the rules of engagement, wait… and wait…
Ambience– not much of one. The space is defo too small for all the goodies it contains, even if you are there to order take-out.
Our conclusion:
YES you should try this casual place. However, if you want to relax while you enjoy your loot… then get takeout and park yourself elsewhere (at a park or have a little walk in the chi-chi area).
Have we enticed you to try Sweet Obsessions bakery-cafe? 

Do you have your own tips or take on it?

Let us know by commenting below!