Here in the PN-Dubs, we are knee deep into summer. Hot summer and colourful fall are fabulous seasons to explore food trucks. So N&K will be bringing you street food of Vancouver, BC.
You non-Vancouverites may not know but food truck licenses are highly coveted in the GVA. Each food truck license applicant must prove their merits… or strike it lucky in the permit-lottery stream. There are tons of hoops to jump through to get a license.
So, when you have that hot lil food truck gem in your hands, take a minute to appreciate all the hurdles it had to break through to bring you to this bodacious moment.
---
For more info on food trucks:
This NPO helps the food truck industry.
This app helps folks to locate a particular food truck on any given day.
---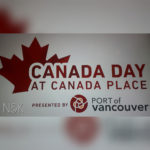 Mr. Nals & I decided to venture out for Canada Day. As we were hungry for lunch, we decided to try TLC Poutine and The Frying Pan.
TLC Poutine
They've got a few different kinds of … you guessed it: poutine! Poutine originated in our very own Quebec. Traditionally, it is a plate of hot potato fries topped with squeaky cheese curds and hot gravy.
And paying a non-homage to our fine-frogger friends on C-Day, we decided to get

The El Mexicano

. It's got the usual suspects: seasoned ground beef, sour cream, tomatoes and cheese. It was hot, crispy and tasty. Other topper options are Montreal Smoked Meat, BBQ, etc.
The acronym TLC is not for the compassion phrase or the movie or the musical group… it stands for Tin Lizzy Confessions. They've got a range of trucks that feature various things like Donut Glazed Grilled Cheese, Fhat Dawgs & Wiggle Chips and Fish & Chicks & Poutine.
→ Find them here.
Festivals and events are an awesome one-stop exposure to a variety of food trucks.
But, the selection diminishes when you weed out the mundane lemonade, hot dog and potato tornados… as such, the food line ups for the non-mundane were crazy long.
So we left for greener pastures and stumbled upon the

FRYING PAN

, a few blocks away³.
We ordered the

Crazy Burger

. This is a big juicy piece of fried chicken (white meat) on a soft bun with shredded, dressed cabbage. This is the "crazy" spicy burger which has a burn that comes a bit late to the show, and lingers . It was delicious, crispy and hot. Delightful.
If you like spicy food, you will find this burger at a medium scoval² level. That is, you feel the burn but it's not ear-popping-get-me-some-cold-ass-milk-!²
Staff was friendly. Totally appreciate that it's made-to-order but it would've been awesome to know that we would have to wait >20 minutes for our order.
→ Find them here FB or on IG @theFryingPan604
Conclusion
We'd probably try the TLC Poutine truck again… but dang there are so many other trucks out here!
We'd absolutely visit The Frying Pan again. We'd also love to try their Korean BBQ rice bowl, hand squeezed organic¹ lemonade and yuzu tea.
Leave us a comment below.

Which food trucks have you tried?

Which ones would you like to see us review?
Footnotes
¹ In theory, organic is good. Organic to N&K means grown like we would in our own backyards – outside with little-to-no pesticides, and minimal chemical processing. We like the idea of "organic" because the only junk that we want is in our trunks. Legally, organic has different meanings so make sure you check out that legal whatnot.
²Scoval units measure the heat levels in a particular pepper. And though milk sounds odd, something neutralizes the heat. (That's why raita accompanies Indian food and sour cream accompanies Mexican food.)
³An idea for those food truck owners who don't get into a festival or event… just park outside, a few blocks out, but on the potential route of pedestrians.