After a gruelling² photoshoot at Rebelkat Clothing worldwide with Cherrybomb Photography

,

we

decided to have a spot of supper. Washington Avenue Grill was right next door and was highly recommended.
So we gave it a go and… here's our restaurant review¹.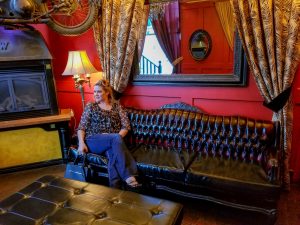 The place is like a mansion! Kells, our friend Cutie T and I took a couple pix in their lobby.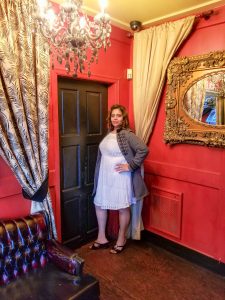 You go up 2 flights of old timey hardwood stairs then you have the bar on one side and the dining area. Dining area also contains a patio and glass atrium. The latter 2 sitting areas have a dreamy view of the water.
WAG is kind of casual – in our pinup hair-and-makeup, we stood out like 3 (gorgeous) sore thumbs.
We ordered off of the PNW inspired WAG menu : Lobster Stuffed Ravioli, dinner special surf and turf and Stuffed Chicken.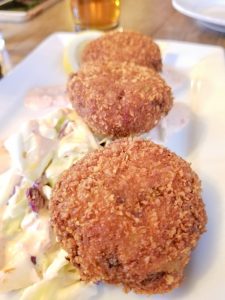 But first we started with Crab Cakes – a well-seasoned and crispy trio of 3-bite deliciousness.
Ravioli was al dente with tender lobster inside. It was in an amenable love triangle with big juicy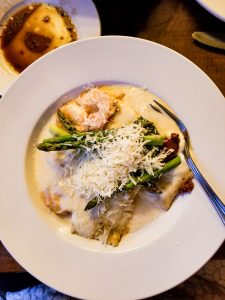 prawns and 2 tangy pesto sauces (basil and sun-dried tomato). Some lovely asparagus dotted the plate.

Chicken was stuffed with salty prosciutto and deliciously gamey goat cheese blanketed with tarragon scented cream sauce. It came with mash taters & veggies.
Cutie T reported that her Surf n Turf dish was delightful: steak cooked & seasoned correctly with crispy veg (she opted for more veg and no taters).
Large portions, good service & not too long to wait for dinner. Some free parking in their lot.
Conclusion
Must try restaurant. Take a beach boulevard walk after your meal, and don't forget to grab an ice cream too.
Footnote
¹Once inside, I realized that I had actually been there before to get takeout last year. Missy R & Nals got takeout of Pecan Crusted Steelhead Trout and Cajun Snapper With Prawns. Both of these were lovely nibbles as well.
²Not actually gruelling