There's this friend of mine who I see couple times a year, usually on our birthdays.
Since she is partial to brunch – the best meal time for a chin wag – I decided to take her to Chewies Steam and Oyster Bar in January.
It's a Cajun & Creole joint with locations in Kits and Coal Harbour in Vang-couver¹.
They were out of the Croque Madame so she ordered the Nola Breakfast. It looked delightful & she enjoyed this.
I had BBQ Shrimp & Grits with a Poached Egg². The shrimp were big and succulent.
---
They sure don't mess around at this joint! So I was going to say the shrimp are so large, they should be called prawns, dummy. Yes yes shrimp and prawn are edible decapod crustaceans. But that's where the similarity ends. They are actually different animals… with different pluralization rules. (Umm so I think that still makes me the dummy?)
---
Grits were smooth with a luscious mouthfeel. Both plates were large and beautifully seasoned and flavoured. Vampers, garlic haters and people-on-dates : stay away from grits as they were super garlicky. And, I would defo order this dish again.
For Mothers Day, Mr. Nals & I decided to take both of the mumseys to Chewies. He was a bit worried that neither he nor his mum would have a lot of choices as they are not seafood fans. I assured him they would both have a lot of choice.
I ordered: French Quarter Cassoulet.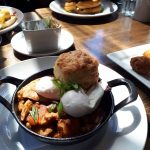 Smoky, flavourful, and each bite had something different. It came with a flaky southern biscuit and perfectly poached egg. The temp was on the cooler side. But still delicious.
He ordered: Crocs and Hush Puppies. Yes indeed that's crocodile. (I know, I know. Dude steers away from seafood but goes throat-deep with crocodile.) I have to say that this was actually good. Maybe because it was battered? It tasted like crispy chicken³, lite version. Served with lovely hushies and sweet-and-hot jalopy jelly. Fair warning though: this is an appy sized plate.
Mumseys ordered: Eggs Benny and Fried Chicken & Waffles. The Benny was awesome. Fried chicken was gorgeously crunchy and not oversalted. Waffles were fluffy and crispy. Both were large portions – mum-in-law gave ¾ of her fab AF hashbrowns to Mr. Nals.
Ambience: beautiful dark wood furniture, real linen napkins, lofty ceilings and large windows. It's casual atmosphere, so don't dress up too much.
Parking: on-the-street meters. Lots of availability at weekend brunch. Weekdays can get pretty busy downtown. Better to use transit during the week or for happy hour.
Considerations
Only 1 bathroom.

Small tables.

Food took a bit of time to arrive. Cassoulet was on the cool side. I didn't send it back because we had waited so long to eat… and it would be awkward to have my dish heated while everyone else waited or just ate their meals.

Gator dish is appy-sized.
Conclusion
∴Yes you must try this place. They also have intriguing dinner and happy-hour menus.
---
⇓ N&K Tip ⇓
Work up an appetite with some window candy with all the shops downtown (10 minute walk to Robson). Or work off your meal by heading down to Harbour Green Park.
---
This ain't-no-footsie Footnotes:
¹ Apparently, Vancouverites call it "Vang-couver". See this.
² PG-YL-rated: This footnote is only suitable for Yolk Lovers… I opened that perfectly poached egg on to the wide expanse of the grits. That yolk caressed and hugged the grits at all the right curves. Holy murphy good thing I was sitting down because that was an intense foodporn moment.
³ I wouldn't have ordered croc for myself. But, I thought since it's here, I'll try it. Neither of the mumseys tried the croc.